About TwitterBudgie
Main > Credits
TwitterBudgie owes the following thanks to the following entities.
My family, who learned that Mom calling them "TwitterKids, it's time for dinner!" or "TwitterHusband, it's time for exercise!" or "Hello TwitterBudgies, what's your rant today?".... was actually part of normal communications. :-)
Twitter.com - I tried keeping the TwitterBudgie layout as similar as possible.
Lisa Shea's Parakeet Page - I used the clipart there for my TwitterBudgie background.
Patrick Altoft of BlogStorm - his post, How to use April Fools day to build links, is what got the whole TwitterBudgie concept moving.
PhotoMatt, who wrote the Hello Dolly plugin off of which the TwitterBudgie Wordpress Plugin is based.
Elizabeth of Table for 5 - she provided me with the idea for Twitter Rant #7.
GRSites Button Maker - that site gave me the means to create my custom Download button you see on the TwitterBudgie Plugin Page.
The folks I follow on my Twitter list. Got some excellent ideas from them.
Speaking about my Twitter rants...here's the original 10!
If you'd like to learn more about Twitter, please visit our Super Secret Top Notch Terrific Twitter Topics page. I promise you - you'll love it! :-)
Oh, and don't forget to follow us on Twitter too, as well as enjoy our blogs:
Have a great day!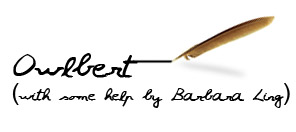 ---