Contact TwitterBudgie
Main > Contact
TwitterBudgie is allergic to phones, so the best way to reach us is at our Ask Owlbert Contact page.
Wasn't that simple? :-)
If you'd like to learn more about Twitter, please visit our Super Secret Top Notch Terrific Twitter Topics page. I promise you - you'll love it! :-)
Oh, and don't forget to follow us on Twitter too, as well as enjoy our blogs:
Have a great day!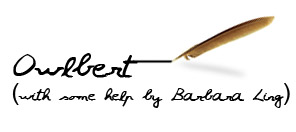 ---